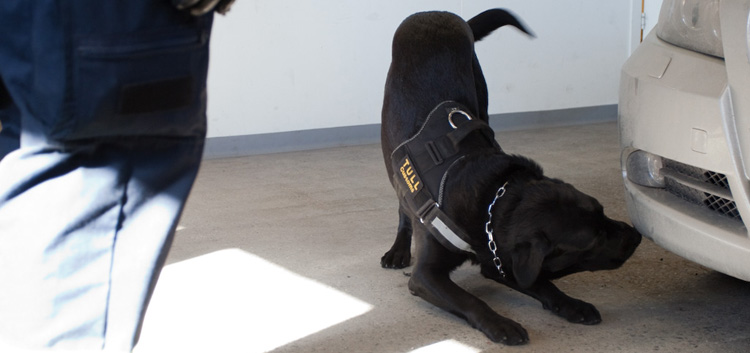 In 1967, Swedish Customs started using search dogs to find narcotics. A search dog and a dog handler make up a team. Today, search dogs are used to search for narcotics, weapons and ammunition. Swedish Customs has about 50 search dogs.
The dog handler lives with his dog
A customs officer who has completed basic law enforcement training can become a dog handler. A dog handler must be prepared to be the centre of attention, to be meticulous and to have the initiative to identify and seize illicit goods. The dog handler must also be willing to live with the dog in his or her spare time, as the person is the dog's ward and is responsible for the dog around the clock. When the dog retires one day, when it is around ten years old, the handler is offered the dog as a free of charge.
Swedish Customs has its own dog training school
Our dog training school is just outside Stockholm, Sweden. This is where we train both search dogs and dog handlers. The dog coordinators and instructors who lead both basic and advanced training courses are themselves trained dog handlers. The dog teams are trained and educated specifically for the needs of Swedish Customs. It takes about five months to train a search dog.
Would you like to sell your dog to us?
If you are interested in selling your dog to us, you can do some simple tests at home with your dog before contacting us. This is to see if it has the right qualities for a future search dog at Swedish Customs. Generally speaking, hunting breeds are best suited, but the most important thing is always the assessment of the individual dog. The desirable age of the dog is 1–2.5 years. If the test you have carried out at home is successful, you can submit information about the dog to us by filling in our online form. If we find your dog interesting, we will proceed with further suitability tests before possibly purchasing it,
The dog must pass the Swedish Customs suitability test
Dogs that we deem interesting for possible purchase will have to pass a suitability test, which is carried out by our own inspectors. The purpose of the test is to determine the dog's characteristics in different situations and environments. A dog team must cooperate well and be able to work in stressful environments. An important part of the mission is so-called search and rescue, i.e., searching for people. Therefore, the dog's social skills and communication with people are assessed. Another important factor is that 96% of the searches a dog makes do not result in a find. This makes the selection of individuals even more important. A good search dog needs to have a high level of hunting and predatory instinct in order to maintain motivation. The dog also needs to be able to work in demanding environments without losing focus.
Tested every year
When a new team of dogs is fully trained, it must be certified. If the dog team does not pass the certification, it must undergo additional training. If it still fails to pass, the dog team is permanently withdrawn from service. Each year, the search dogs undergo a so-called serviceability test which must be passed in order to continue working.