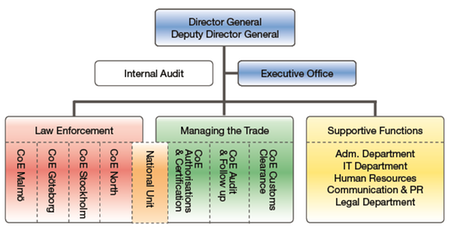 The approximately 2,000 employees at Swedish Customs are strategically positioned to best simplify what is legal and prevent what is illegal. Our core activities are Managing the Trade and Law Enforcement.
The management of Swedish Customs consists of the Director General and the Deputy Director-General. Managers for the core activities and supportive functions are included in the management group.
Managing the Trade process works to simplify the legal transport of goods.
Law Enforcement works to prevent and stop illegal goods in the traffic flows.
Administrative and Supportive Functions help the core departments to work more efficiently. This support is provided by different departments who help coordinate the work and carry out administrative functions.